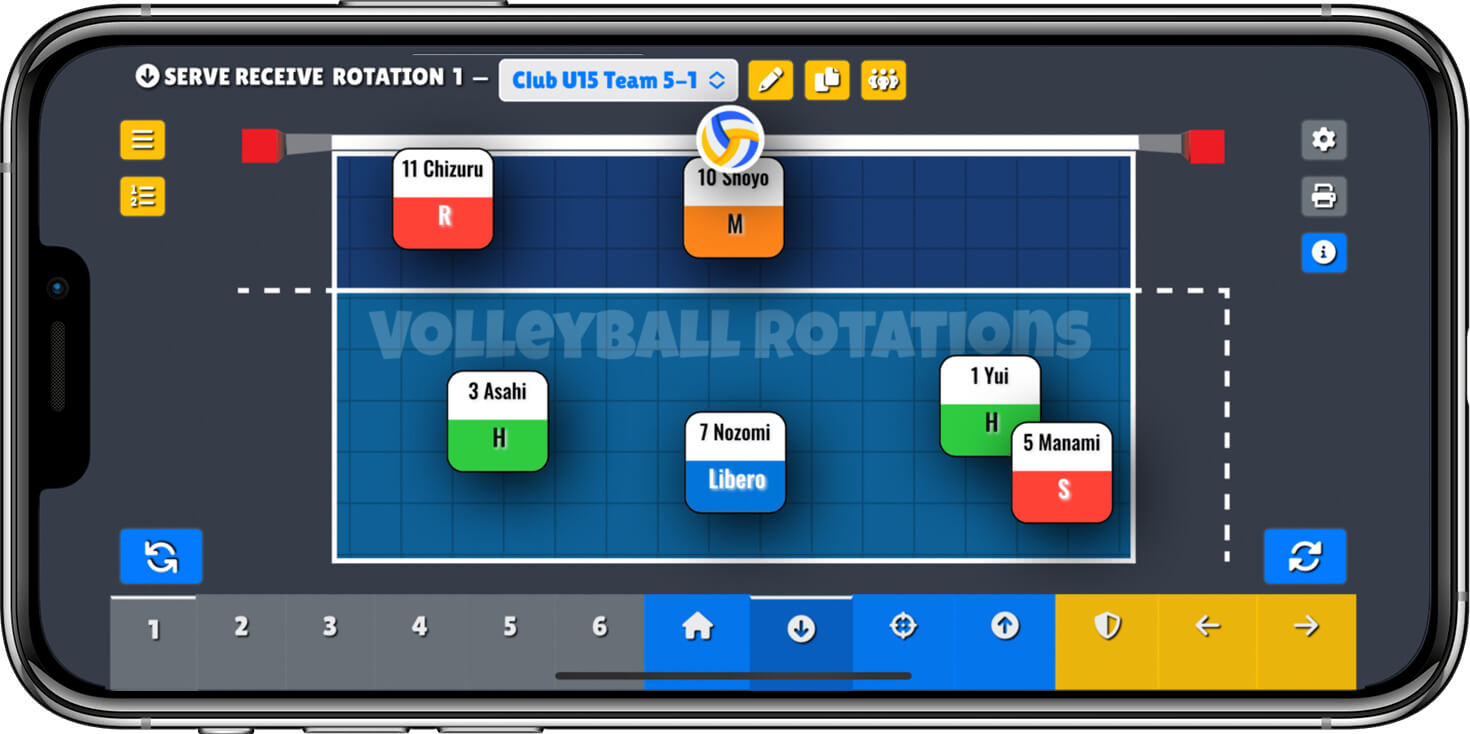 Download Volleyball Rotations
Coaches, are your players confused on where they should be in serve receive? Players, are you tired of flipping through those confusing print outs? The volleyball rotations app is customizable to fit any volleyball offense and defense you desire. Coaches, assistants, and players get in sync with your volleyball rotation today.
Rotations is one of the most difficult and time consuming parts of coaching a new volleyball team. For new coaches it can be daunting to understand, let alone teach. What is a 5-1, 6-2, or 4-2 anyway? If you're a new coach, this where the Volleyball Rotations app will be a life saver. Not only will you be able to visually see the rotations in action but you will be able to show your players as well. Not only for beginner coaches but seasoned coaches can benefit from this app as well. Manage several teams? This app can help you keep those lineups straight.
A Volleyball Rotation Simulator
The Volleyball Rotations app helps you visually communicate or learn the various volleyball formations and transitions involved with each rotation. Covers offense and defense. Includes a basic 4-2, 5-1, and 6-2 and can be customized to fit any offense you desire.
A good tool for communicating and checking if players are where they are supposed to be on the court in any given rotation offense or defense. Print your own custom rotation sheets. Use this app to communicate rotation assignments to your players. Share your rotation with your players who have the app.
A good tool for players who want to know where they are supposed to be and transition to on the court for offense and defense.
Fantastic Volleyball App
I use this with 12-15yr old Club Teams for them to review before Tournaments. Not many simple, useful Volleyball apps out there. This is one…easily worth the money. Please continue developing this app! (Love the latest up date btw) ** UPDATE Been using this for a couple years now, and can't begin to say how useful this is. Personally couldn't live without it. Before each Match I make a Video of all the Rotations and Offensive/Defensive schemes i've setup and have the Girls study before the Game. Not just a Rotation Assistant (but great at that), but also a REALLY Powerful Coaching Tool as well. PLEASE keep this App alive at any Cost. I will pay for an update
Great App
Great app, takes some time to set up, but it's helped me with analyzing the lineups before our matches. It also was useful during the game when I needed to write in the lineup before matches.
Great Assistant Coach
I like being able to work up new serve receive rotations. This app allows me to do so and it also lets me know when I am out of rotation because of a move I make. Very helpful. I love being able to show my players where I want them defensively also. Great app!
Very well with the cost
Needed this to help me learn rotations in running a 5-1 and a 6-2 at the middle school level. This helped tremendously. Had a question about how to do certain things and sent a message to the admin. They got back with me very fast and was very helpful. I highly recommend. You won't be disappointed.
Good volleyball teaching tool
Very good app to learn the rotations and to teach. Also good to talk tactics with the players.
My Assistant Coach
This has been a life saver! Coaching without an assistant this year and having this app available on the sidelines on my iPad had enabled my beginner players to be in charge of their subs. It also help me teach my beginners about our offense and defense formation using this as a great visual.
Player friendly
This is the easiest and effective way to track rotations/substitutions. This app is one of the most "player friendly" for volleyball. Volleyball Rotations visually (animation) shows switching (transitioning) and positioning for attacks, receiving, serving, and blocking. The coach has control and customization of positioning players on the court and transitioning them; demonstrates the transition via animation. My players have the app, so I can share the next match line-up for their review.
Coach
Great app to work through rotations at higher and lower levels of play. I would like to see a way to transfer data between devices. I would also like to see a greater way to set plays for serve receive transitions.
I LOVE THIS APP!!!!
Finally someone gets it right! This is exactly what I was looking for to manage our rotations. Simple yet robust. Developers please add way to import the export data. I was hoping to transfer from my tablet to iPhone. Thx!!!